Governors Island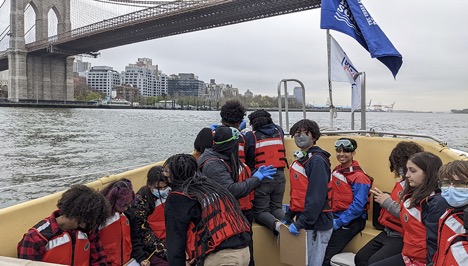 Marine Biology Newsletter, Volume 10
---
Senior e-Portfolios
Check out our Seniors' e-Portfolios on the Harbor Seals Website.
It's great work and they should be proud!
---
Center for Climate Solutions
Governors Island is preparing to enter its final stages of choosing its partners for the building of a historic Center for Climate Solutions on the Island. The partner organizations that will be awarded the opportunity to lead the Center will endeavor to work closely with our school and students. As a school we need to begin creating a shared vision for how we will partner with the organizations and voice should be given to students and teachers alike for this. We need your help now to begin having those discussions and getting that input so we're ready to become active partners in this historic moment.
If you are interested in getting involved in this project, email Koko.
For more information on the Center, check out these two sites:
https://www.govisland.com/about/climate-solutions
https://newyorkyimby.com/2022/04/finalists-announced-for-governors-islands-center-for-climate-solutions-design-competition.html
---
How about a Harbor School-Wide Symposium next year?
The Marine Biology year-end Science Symposium has been a NYHS tradition for just about every year. Students, educators, and industry professionals network. Our student scholars get to present their research projects and receive awards. It's always a memorable, rewarding event for all.
This should be a NYHS school managed event!
Students from all the CTEs and Science classes could present a research paper, pictures, or a talk about what they have accomplished. The event would give students an opportunity to interact professionally with pride and positivity.
But…we would need YOUR help.
Organizing. Designing. Mentoring.
Contact us if interested.
---
Marine Bio journey to the Bahamas
In the past, Marine Bio students have taken overseas class trips on research projects. Parents and students helped raise funds and organize. Let's help give our rising 9th, 10th, and 11th graders this experience next year.
The Island School in the Bahamas is a campus with full facilities & staff. Students study, research & live in an ocean surrounded learning community.
Want to make this happen? Contact us.
---
Scholars at Work
Sophomores taking samples and doing water quality testing at Yankee Pier on Governors Island:
Juniors collecting water samples and logging data while sailing near the Brooklyn Bridge:
Harbor SEALs Juniors and Freshman weighing debris collected from NY Harbor in the Bio Lab:
Sophomores collecting and testing water quality on the west side of Governors Island:
Sophomores testing dissolved oxygen in the Bio Lab:
---
Help make all these programs possible for our students.
Donate at CheddarUp.
Thank you!
---
Comments? Questions?
Photos courtesy of Mauricio Gonzalez, Harbor SEALs, Governors Island Trust, Island School
design by Koko
www.kokobaz.com