Special Events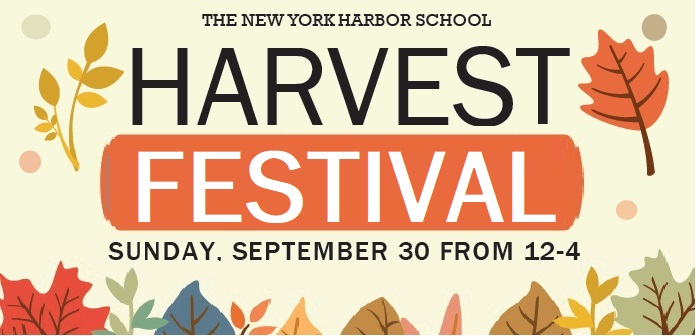 Harvest Festival, fruitful & fun
We're just starting the month of October, but it feels like so much has happened already at Harbor School! 
It was wonderful to see so many families and teachers at CURRICULUM  NIGHT  this past Wednesday and to have  time to talk and share at our HARVEST FESTIVAL  Sunday, as we got down and dirty, learning about sustainability along with nutrition and wellness and eating all the great food our students have grown!
It wouldn't have been possible without the help of our dedicated volunteers – BIG thanks to chefs George Edwards and Holly Howitt of Garden to Cafe, for coming out at Harbor School TWICE this month to help us make the transition in the Mess Hall breakfast and lunch to the Alternative Menu, with its fresher, healthier, more plant-based foods.
Our thanks to Jonathan and Janice Derow of Union Street Honey, Harbor PTA alums and parents of Jaxon, Class of 2016 (now a college man).
To our school cook Lavernon Ebron, for the yummy basil pesto pasta from the garden and extra help with watermelon, mint tea and lemon balm tea  and for sharing his kitchen so graciously.
Thank you Benito for helping with all logistics.
Warm thanks to Jackye Stephenson who opened up the school,  got the music system down, hauled 200 pounds of gear to and fro, and generally kept the party going all afternoon.
Thank you to Garden Committee members Adrienne Murray, Betty Feibusch, Diane Orr,  Carol Hallinger, and Garden Director Leslie Chow. And thanks to Pablo Garcia for keeping the sustainability conversation flowing.
Thank you to Compost Committee Head and Marine Policy CTE head Rob Markuske.
Thank you to fantastic PTA  Executive Board Members Susan Tobias working wherever needed, Raquel Morales and her adorable son and daughter for A-Z effort, Penelope Clarke-May and her whole wonderful family, for stellar their grilling: Ellen Dobbyn-Blackmore and her son Rutger, Maureen and Dave Packer,Pete Woodcheke, and on desserts and seedballs, sachets and libations, we are so grateful to Nancy Usiatynski, Jeannie Oliver-Cretara, Yessenia Martinez-Cores, Leslie Respinoza, Zoe Feldman, Rosemarie Hamlin, Anna Lee Mena and Nikki Mena who rocked the Welcome Table  and Sue Wolfe for selling the swag. 
We are so very glad and grateful you came and helped and we had a chance to spend the sunny day together—you are such lovely people!
Most of all, thanks to our students Alyssa Morales, Isabelle Karsch, George Clark-May, John Avery Steib, Fiona Heveghan, Michael Hamlin & Rutger Dobbyn-Blackmore.
Great kids make a great school. Your help meant a lot!Coming soon: Check out the new PTA blog on the NYHS WEBSITE to keep up with all the other happenings at our busy school! Like the Hispanic Culture Celebration dozens of students organized with  Mauricio Gonsalez (Marine Biology TEACHER of the YEAR) Friday September 29, where students, faculty and PTA members talked about our Latino/a/x  (or not so Latinate- we had folks whose families hailed from Eastern Europe to the Middle East, and beyond in the circle as well). The celebration will have its  final gathering Friday October 12, 3-6. Join in!
Come back for our next post to:
Learn about our teachers